Towa's quality
The brand name Towa, made in Japan
All our Polyvinyl Chloride (PVC) goods are made in Japan from our own technology unlike many of the PVC products made in South Eastern countries because of its lower labour cost. Our products, which are given a high quality and design are respected by customers domestic and abroad. Therefore we are proud of Towa's brand name.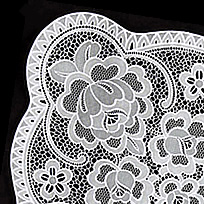 Unrivaled patents
Patents of Towa
PVC tablecloth and table center:
Multi-colour printing on a Polyvinyl Chloride lace to enhance the colour
Polyolefin tablecloth and table center:
We were the first in the world to succeed in developing lace products made by extrusion molding.
PVC mat for indoor and outdoor.
Designed for anti-slip and a dirt trap
Embossed irregular dots at both surface and lining.Entangled two color filaments as a mixture and paralleled two color stripes.
Polyolefin anti-slip sheet to underlay tablecloth and mat
Molding technology of a soft poly olefin net.
Reproduction by synthetic resin (PVC) alike genuine textile lace
Similar to a fine and delicately woven original textile lace, Dia lace has been reproduced by synthetic resin (PVC) by our technology. Dia lace looks transparent through meshes of a textile lace unlike a vinyl sheet and it covers a table brilliantly and gives a cozy atmosphere to the home interior.