Development of Towa
Development matches today's demand
We provide a product line-up of PVC lace and PVC mat with a combination of colours, design and function. In order to solve and analyze inquires from customers and other sources, it is essential to acquire feedback to develop further value added quality products.
Improve the quality and the design for our place in the world market
[Dia lace] is a brand name popular in Europe and other countries for its fine and excellent design which resembles the genuine textile lace
We are convinced that we can make a statement of [MADE IN JAPAN quality] with our prominent technical staff and develop "an original product"
Making your creation with PVC lace
Our PVC lace is like an authentic textile lace which can be used not only as a tablecloth but also for your favorite hobby, e.g. a place mat, cosmetic pouch etc.
PVC lace does not leave any cutting fray and it cuts very accurately.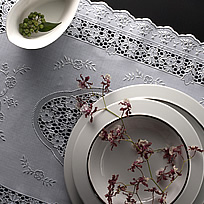 Challenge, and research of developing the PVC mat.
Our PVC mat developed by our experiences of the tablecloth production has gained a reputation of its design and method in domestic and international.
We will develop our core technologies so far cultivated to meet living style and climate of countries in the world. Therefore it must be the eco-products in respect of today's needs of environmentally friendly, healthcare and easy maintenance.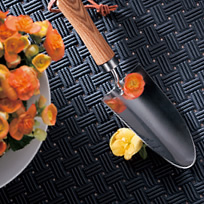 An idea of a home necessity
Our advantage of being a small company is flexibility, we can go any direction for your special needs. We are open for any suggestion you might bring to us and help you to develop a product according to your idea.
We are anticipating to hear your questions or wishes, we therefore welcome you to contact us for more information.