Specialty of Towa
A business has been created from a material called synthetic resin, which has been developed for two types of products.
Towa Co., Ltd. has been established in 1971 as a manufacturer of the Polyvinyl Chloride (PVC) tablecloth. After a successful result of the tablecloth, we have been invented various kinds of mat based on the high technology and know-how of its tablecloth production
Our business does consist of tablecloth and mat, which were designed by our persistent effort and high technology. We export our goods to customers all over the world.
Dia Lace
An exclusive tablecloth with its fineness and beauty
Family meeting for coffee time or a dinner event at your home can be enjoyed with a beautiful table setting with a lace tablecloth. For your garden parties the PVC tablecloth is ideal, because of its drainage characteristic.
Adding our own design on the original textile lace with a history going back to China and ancient Europe where lace was a great status because of its refine and elegant touch, we believe to have succeeded with [Dia lace] as close to the authentic lace.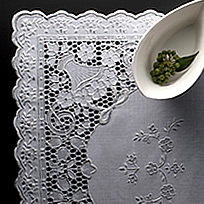 Prepared in rich colours, sizes and designs
According to your home interior, you have a wide variety of colours, sizes and designs for table-runner, tablecloth and place-mat and center etc.
Please experience when you touch the Dia lace tablecloth you will hardly feel any difference between a textile tablecloth.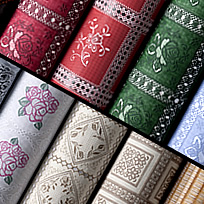 Easy to clean
Single dust-cloth will wipe away dirt easily. The Dia Lace tablecloth will be an attractive protector for your dining table in your home.
Beside of using as a tablecloth, there are other ways to use such as under pot-plants, an aquarium, or in your kitchen or dining -room. You may coordinate as you wish.
Dia Mat
A variety of mats with several kind of function enrich your life style.
The quality synthetic resin mat has [durability][waterproof][resiliency]and[soundproof]against natural deterioration such as ultraviolet light, high and low temperature and colour fastness.
Dia Mat produced by high technology ensure to prevent from dirt entering the building to keep clean, [anti-slip] [oil free] [drainage] [anti-microbiological]and [fire retardant]. A jewel at your front door !!
The mat has a high implementation of safety, for example, at a swimming poolside, a kindergarten playground, a workshop, hospital and care homes etc.